Employers, property owners or leasing companies who have water systems on their premises have a legal obligation to the health and safety of their employees, lessees, and the public. However, many organisations fall short of these requirements to minimise the risks of Legionnaires' disease, which is a serious and potentially fatal form of pneumonia.
We have the expertise to help your organisation meet its associated legal obligations, identify the risks, and recommend risk mitigation measures. Ultimately we will help improve the health and safety at your premises using a number of innovative and effective methods.
These include:
• Comprehensive Legionella Risk Assessments
• Detailed Monitoring and Inspection Services
• Electronic data management – Life Online
• Water Hygiene testing, including Quick Response
• Project managing remedial work
• Legionella policy implementation: the Written Scheme
• Legionella awareness training for management and site operatives
• Compliance checks on sites and organizations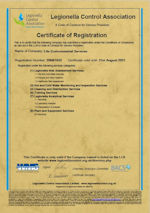 Our LCA certificate is available to view or for download here.
Bring your compliance needs to Life
To learn more about how Life Environmental can help your business, contact us today.