HSE Safer sites – targeted inspection initiative September 2014
Posted on: 10/10/2014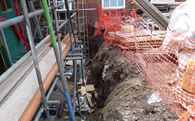 From 22 September until 17 October, HSE Construction Inspectors will carry out unannounced visits to sites where refurbishment projects or repair works are underway.
During inspections, HSE inspectors will consider whether risks to health are adequately controlled. Including;
• Exposure to dust
• Exposure to Asbestos
• Work at Height
• Noise, vibration and Manual Handling
The aim is to improve site safety at all levels of the Construction Industry. HSE uses the inspection initiatives to reinforce its message to the construction industry that poor standards are unacceptable and liable to result in HSE taking enforcement action.