GET BACK TO BUSINESS, SAFELY
Posted on: 22/09/2020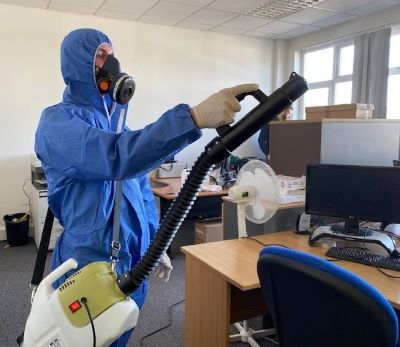 At Life Environmental, not only can we assist with Asbestos and Legionella compliance, we can also assist with our new Deep Cleaning and Disinfection services.

Due to COVID-19, we have decided to invest in a deep cleaning service to help you get back to work, back to school, and back to normality while feeling as safe and settled as you can. We will clean, wipe down and hoover, followed by fogging and disinfection to leave all surfaces clean and bacteria free and creating a safe working environment.
Oxyl-Pro Hand and Surface Disinfectant is a multi-purpose product providing effective protection against coronavirus and all enveloped viruses. It is also effective against bacteria and fungi. Oxyl-Pro contains a unique blend of food safe ingredients based on hydrogen peroxide, offering a product with an enhanced environmental profile. With its unique stabilisation process, the product provides a mild residual disinfection on both hands and surfaces which micro-organisms do not become resistant to. Its non-sticky formulation does not dry out the skin.

This service covers the whole of the UK, and we are available for any residential or commercial properties.
This service can be provided as a one-off specialist deep clean, or alternatively on an ongoing preventative basis. Please feel free to contact us, where we will provide you with a free site survey along with a detailed quotation to address your current needs.
Please contact us on commercial@lifeenvironmental.com